Case Studies
Water Savings in Nurseries
Hawkesbury Valley Irrigation finds by using NELSON MP2000 Rotary Nozzles, 47% water saving are achievable with better growing results.
A reputable nursery in Galston, NSW approached Hawkesbury Valley Irrigation in October 2008 with a common and sometimes-illusive nursery issue they were experiencing with run-off, both during and after irrigation.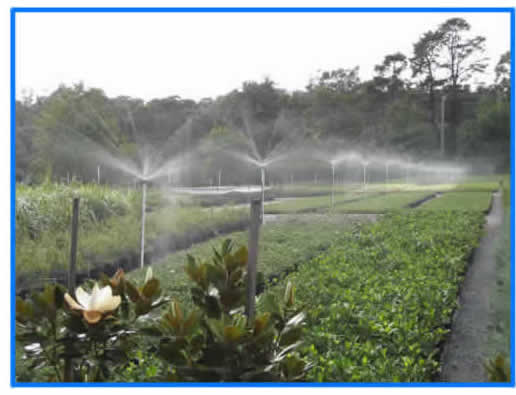 Irrigation scheduling, sprinkler spacings as well as sprinkler types can all be contributing factors to run-off. Most nurseries have experienced run-off in one form or another and are most common on sites with slopes and/or heavy compact soils. The nursery owner, as proficient as he is, was oblivious to the run-off from his property and it was only after a neighbours complaint he was made aware it.
A simple sight audit had identified that a commonly used DA type Sprinkler was the major cause. Sprinkler inefficiencies often cause run-off issues because of their poor performance, uniformity and distribution. This was now an even bigger issue because there is only town water available on this site and every litre costs money.
From our audit we noticed the operating pressure of the system was 200kpa (which was average). DA Sprinklers at this pressure use 7.69 ltr/min. With approximately 170 heads on site with an average irrigation time of 40mins, the nursery was using 52,292litres of water per cycle, which costs a staggering $84.19.
In recent years technology has helped develop sprinkler alternatives that not only save water, but also improve the quality of nursery stock.
As an alternative Nelson MP2000 Rotary Nozzles were chosen because of their low application rates of only 4.72 ltrs/min. Multi trajectory and rotating streams provide unmatched uniformity and outstanding close-in watering, preventing the need for lengthened irrigation cycles to compensate for brown/dry spots. They are also one of the best wind resistant sprinklers on the market.
By utilising the existing infrastructure, it was as simple as unscrewing the old sprinklers and installing the MP2000's!
Since installation we have seen the following sustainable improvements and changes that will not only save time and money but also maintain a quality of stock we are used to seeing from quality wholesale nurseries.
47% water savings (when comparing 1st January to 31st March, 2009 to last years figures).
Stock quality improvements.
Little to no infrastructure changes.
More precise watering and improved irrigation micro management.
Simple changes can be effective as well as inexpensive when performed correctly.